Edible Food Recovery
What is "edible food"?
Edible food is food intended for people to eat, including food not sold because of appearance, age, freshness, grade, surplus, etc. Edible food includes, but is not limited to, prepared foods, packaged foods and produce. All edible food must meet the food safety requirements of the California Retail Food Code (PDF).
What is "edible food recovery"?
To reduce unnecessary food waste and help address food insecurity, SB 1383 requires that by 2025, the State of California recover and redistribute 20 percent of edible food that would have otherwise been sent to landfills. SB 1383 directs that:
Jurisdictions establish food recovery programs and strengthen existing recovery networks
Edible food generators, who qualify as Tier 1 and Tier 2 Generators (described below), recover the maximum amount of edible food that would otherwise be landfilled or spoiled
Food recovery organizations, edible food generators and jurisdictions maintain complete records of the quantity and types of food recovered.
Under SB 1383, the City of Citrus Heights has implemented
Sec. 74-180 - Edible Food Recovery Requirements.
What is an "edible food generator"?
For the recovery of edible food waste, edible food generators are split into two tiers: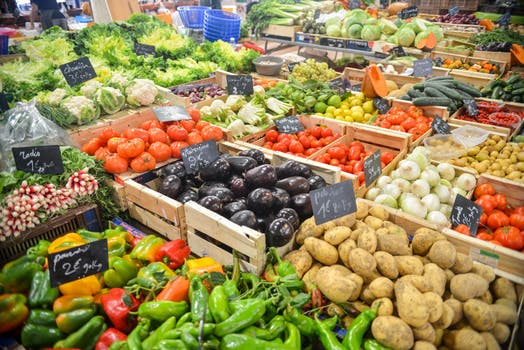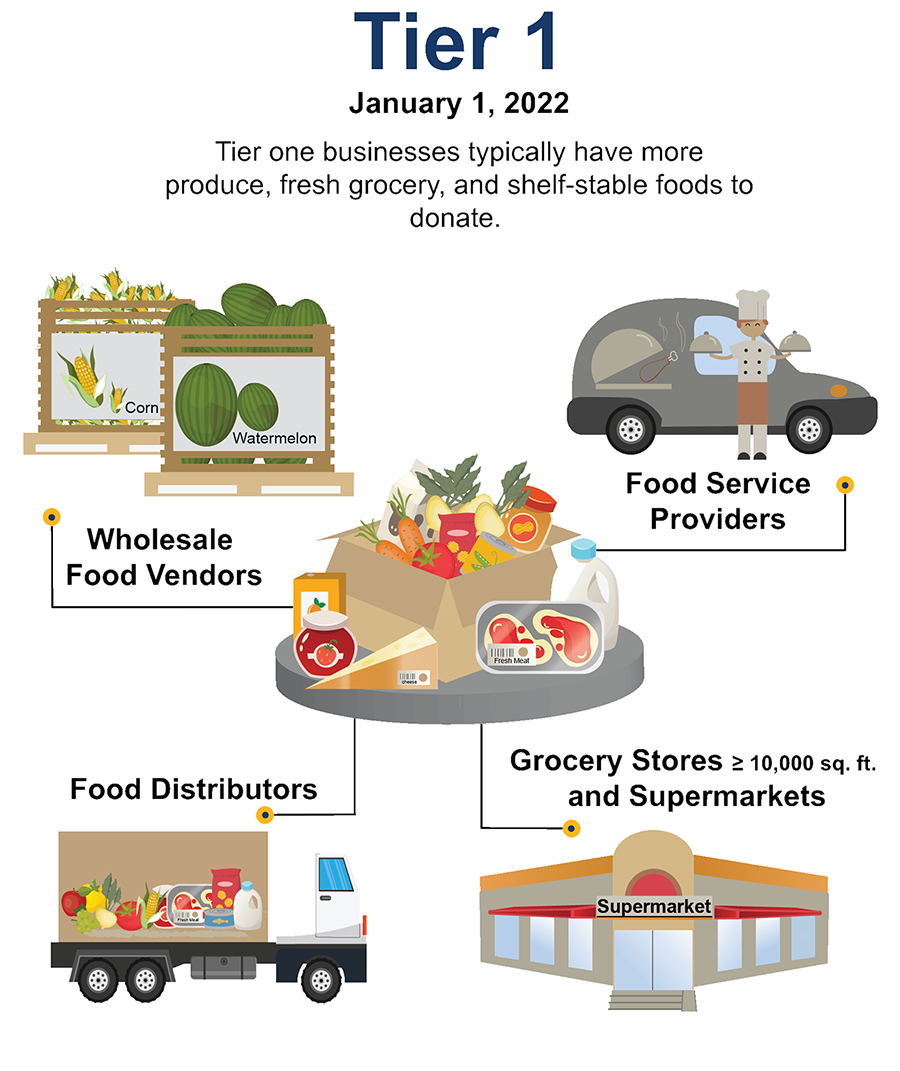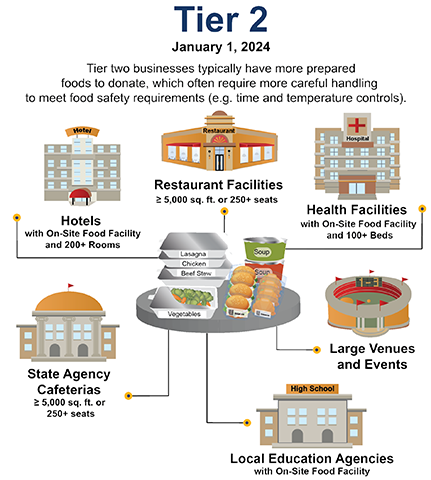 List of Edible Food Recovery Organizations Serving Citrus Heights
| Organization Name | Address | Phone | Email/Website | Collection Service Area | Food Types Accepted |
| --- | --- | --- | --- | --- | --- |
| Bridges After School Program | 7085 Auburn Blvd. Citrus Heights | (916) 275-0021 | millard.haynes@sanjuan.edu | Citrus Heights | Shelf-stable/non-perishable food, baked goods |
| Feeding the Sheep | 7405 Mariposa Ave Citrus Heights | (916) 633-8774 | unicorn57lady@yahoo.com | Citrus Heights | Fresh produce, shelf-stable/non-perishable food, fresh grocery/refrigeration, frozen grocery, baked goods |
| Sacramento Food Bank & Family Services | 1951 Bell Ave Sacramento | (916) 925-3240 | pmarshall@sacramentofoodbank.org | Sacramento County; 40-50 mile range | Fresh produce, shelf-stable/non-perishable food, fresh grocery/refrigeration, frozen grocery, baked goods, frozen prepared foods, cold prepared foods |
| Sunrise Christian Food Ministry | 5901 San Juan Ave Citrus Heights | (916)287-1358 | Scfmoffice123@gmail.com | Citrus Heights | Fresh produce, shelf-stable/non-perishable food, fresh grocery/refrigeration, frozen grocery, baked goods, frozen prepared foods, cold prepared foods |
| Copia | Locations Vary | (650) 382-1020 | https://www.gocopia.com/ | Sacramento County; 40-50 mile range | Fresh produce, shelf-stable/non-perishable food, fresh grocery/refrigeration, frozen grocery, baked goods, frozen prepared foods, cold prepared foods |
| GoodR | Locations Vary | (404) 261-0211 | info@goodr.co | 1-30 mile range | Shelf-stable/non-perishable food, fresh grocery/refrigeration, frozen grocery, baked goods, frozen prepared foods, cold prepared foods, hot prepared foods |
| Replate | Locations Vary | (415) 569-0530 | community@replate.org | 1-20 mile range | Fresh produce, shelf-stable/non-perishable food, fresh grocery/refrigeration, frozen grocery, baked goods, frozen prepared foods, cold prepared foods, hot prepared foods |
Here are letters explaining the Tier 1 and Tier 2 requirements:
For more information, email CHRecycles@citrusheights.net